During the Olympics we freely show unabashed pride in our native sons and daughters. The Rochester region cheers Jenn Suhr's triumph over her longtime Russian rival in the pole vault and Abby Wambach's soccer gold against Japan. Yes, some of the U.S. Olympians are transplants, immigrants to our nation. But most were born here.
While a burst of nativism is excusable during the Olympics, anti-immigration sentiment doesn't serve our economy well. Asked by local businessman Dutch Summers to explore why Canada's Golden Horseshoe—anchored by Toronto—has prospered and grown while Upstate New York has languished, we concluded that immigration policy is a powerful contributing factor.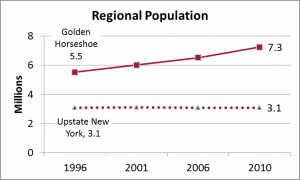 The difference in both population and job growth is startling. From 1991 to 2010 the Golden Horseshoe (from the Niagara River around the end of Lake Ontario through Hamilton, Toronto & Oshawa) grew 31%, adding nearly two million people to its resident population. Upstate New York[*] grew not at all.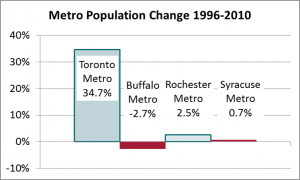 Very modest growth in the Rochester metropolitan area was fully offset by population loss in the Buffalo metro. Although the City of Toronto grew 5% through the period, the central cities of the Upstate metros all lost population: Buffalo lost 16%, Syracuse 10%, and Rochester 7%.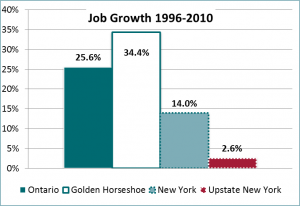 Job growth from 1996-2010 was 34% in the Golden Horseshoe and only 3% in Upstate New York.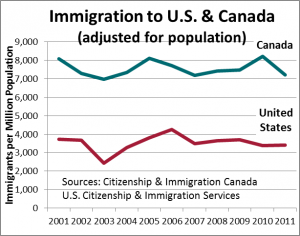 Immigration policy is almost certainly a contributing factor. In terms of sheer volume, Canada admits twice as many immigrants as the United States on a per capita basis. On average over the past five years, Canada admitted 7.5 immigrants per 1,000 residents while the United States admitted only 3.5.
More to the point, however, Canada is much more willing to allow the immigration of individuals who bring a particular skill or who are well educated. In 2011, only 13% of permanent immigrants into the United States were "economic immigrants," individuals granted permanent residency by virtue of their skills, abilities or educational attainment. In Canada, it was a whopping 63%, 10 times the U.S. rate per capita.
Fortunately, New York State has the good sense to view foreign immigration in a positive light. This could be an instinct toward self-preservation, of course, as New York has lost more residents to other states than any other state. The Census Bureau estimates that 1.8 million New York residents relocated to other states from 2000-2011, about 9% of the state's 2000 population. Next closest is Louisiana, which lost about 7% of its 2000 population to domestic outmigration.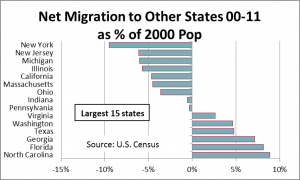 New York welcomed about 920,000 immigrants from 2000-2011, the 7th largest inflow among the states, adjusted for population. Nevada and Florida both led the nation, each admitting about 6% of their 2000 population as legal immigrants. And we've the good sense to encourage the flow, welcoming immigrants by policy and practice. Governor Cuomo just announced the creation of the NYS Office of New Americans, an effort aimed at supporting immigrants in their new lives in the U.S. and, of course, New York State.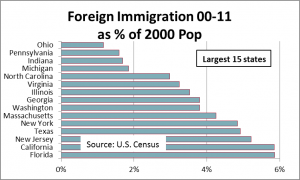 New York also allows undocumented immigrants who satisfy certain conditions to qualify for in-state tuition at SUNY and CUNY institutions. We want to welcome immigrants and encourage them to make a home in our state, not join the ranks of those departing for other parts of the nation.
NYC Mayor Michael Bloomberg is also involved in the immigration issue as co-chair of the Partnership for a New American Economy. This is a group of mayors and business leaders working to promote a flexible immigration policy that is responsive to economic conditions.
We need only look across Lake Ontario for a shining example of the benefits of freer immigration. In a vigorously competitive world economy, we compete not just for customers, but for the best economic contributors. Let's take a page from Canada's immigration book and open our doors to the world's best minds and most productive workers.
---
Defined here 14 counties (Erie, Orleans, Genesee, Wyoming, Monroe, Niagara, Livingston, Wayne, Ontario, Yates, Seneca, Cayuga, Oswego, Onondaga, Madison), which includes Buffalo, Rochester, and Syracuse.