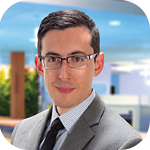 If you didn't know the name of your county's health director before March, you probably do by now. It's a sign of the prominent and important work that local health departments are doing to track the COVID-19 pandemic and educate the public about limiting its spread.
This is only one way that local governments are responding to the novel coronavirus. Municipalities have made drastic changes in operations to protect staff and the public while continuing to pick up trash, put out fires, fix roads, hold elections, and run water and sewer systems. Local governments also have helped distribute face masks and meals to families in need.
At the same time, local governments are facing an unprecedented fiscal crisis – a result of the pandemic and associated economic shutdown. Municipal leaders are now in the difficult position of trying to maintain vital services in uncertain times while preparing for the worst.
The extent of the fiscal crisis is starting to come into focus. In New York State, local (county and city) sales tax collections, a major source of revenue for county and municipal budgets, were down 32% in May compared to May 2019, according to the State Comptroller's Office. This followed a 24% decline in April and a 4% drop in March, during the early weeks of the pandemic. (Governor Cuomo issued his NYS on Pause order on March 22.) In raw dollars, local sales tax collections in April and May were more than $760 million below 2019 levels.
Local data shows that while the impact on sales tax revenue has varied across New York, no part of the state has been immune. Every region had substantial shortfalls in April and May. The Southern Tier was hardest hit in May, with a 37% year-over-year decrease. Central New York had the smallest drop that month – a still sizeable 29% decline.
Overall, local sales tax collections have already fallen more dramatically than they did during the entire 2008-09 Great Recession, according to the Comptroller's Office. The sales tax data was just some of the latest troubling news for New York State and local governments:
While the COVID-19 pandemic has hit New York harder than much of the nation, other states where CGR is working are having major fiscal challenges, too:
In Pennsylvania, the Department of Revenue estimated that tax collections in April and May were about $635 million less than anticipated because of reduced economic activity.
In New Jersey, sales and use tax collections for April were down 29%.
Connecticut anticipates a roughly $2.7 billion deficit next fiscal year.
Where does all this uncertainty leave local governments?
We're already seeing painful cuts at the municipal level. A survey of 1,100 municipalities by the National League of Cities found that 74% have already made cuts – 20% of them across the board. Combined, state and local governments have laid off about 1.5 million workers, according to the U.S. Bureau of Labor Statistics. The City of Rochester, NY, where CGR is based, announced a series of layoffs, furloughs and job-sharing measures affecting about 12% of the City's workforce.
At the same time, both elected leaders and organizations representing local governments are calling for federal support as the COVID-19 pandemic continues – particularly for the vast majority of towns, villages and cities that are ineligible for assistance under the federal CARES Act. A coalition of state and local organizations has launched a "Cities Are Essential" campaign, arguing that federal support to local governments is essential to addressing the coronavirus and creating a sustainable recovery. The idea is drawing bipartisan support. Whether such aid is forthcoming will play a major part in shaping the impact of the COVID-19 pandemic on our communities and the extent to which local leaders can maintain public services. Clearly, local governments will need to tap "rainy day" funds, carefully weigh their priorities, and make difficult adjustments for this year and beyond.
As local governments respond to this crisis, CGR has relevant experience with municipal budgeting, operational efficiency and government reorganization. We are happy to offer a pro bono consultation to discuss how we can help. Contact us to learn more.