According to statistics from the National Fire Protection Association and the United States Fire Administration, from 1995 to 2010:
The number of residential building fires fell 15%.
The number of paid firefighters increased by 30% and the number of volunteer firefighters decreased by 8%.[iii]
With the increase in dependence on paid staff, there has been an increase in cost for the fire service. From 1995 to 2008, the cost of Local Fire Protection has increased 65% to an inflation adjusted $39.7 billion.[iv]
Fire Protection in NYS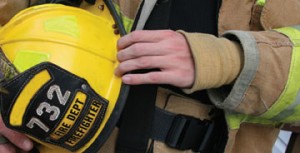 In New York, fire protection is delivered many ways.  Cities must provide fire protection services and usually do so through a city department. Villages are also required to provide fire protection and may form their own department just like a city or they may contract for services with another entity.
Towns may not form their own fire departments. They must contract for fire protection from an existing fire service provider. This is where it gets confusing.
Towns may establish a "fire district" which, once established, is an independent form of government that has the power to tax to support the direct provision of  fire protection services (although it also may do so by contract). Its geography need not match town or village boundaries. A fire district is governed by separately elected commissioners and reports its financial information separately from the town.
Towns may also work with other towns or villages to form a "joint fire district." The commissioners of the joint fire district may be elected or appointed by the governing boards of the municipalities forming the district. A joint fire district is very similar to a fire district in having the power to tax and manage its finances without involvement of town or village boards.
Finally, a town may form "fire protection districts" that are controlled by the town board. Unlike fire districts, fire protection districts cannot provide fire protection services directly, but must contract for services with an existing municipal fire department, fire district or independent fire company. The cost of contracting for service through a fire protection district is borne by the property owners within the district, as negotiated by the town on behalf of the residents and is included in the town budget. [v]
It is common for a single town to be divided by several fire districts or fire protection districts and have multiple departments providing the service.
Fire Departments in New York [vi]

Type of Fire Department
Number
City
61
Village
385
Fire District
810
Incorporated Fire Depts.
530
Staffing Model
Number
Full Career
36
Career/Part Paid
10
Career/Volunteer
47
Full Volunteer
1,693
Are You Getting Good Value?
It is likely that few New York voters living in towns and villages understand how fire protection services are provided, or, for those served by independent fire districts, of their obligation to elect fire district commissioners. The commissioners of the district are responsible for ensuring appropriate operation of the fire service in their district. They set the budget, including the tax levy, and oversee the activities of the company. Historically, as the election (on the second Tuesday of December) does not coincide with the general election, the voter turnout in fire district elections is quite small unless there is a contentious issue such as the building of a fire station.[vii]
The number of volunteer firefighters has declined by about 15,000 in the last 20 years, causing fire departments to add paid personnel. [viii] The shift from purely volunteer companies to those with a portion of paid staff is likely to continue, steadily increasing tax burden. As citizens become more concerned regarding the use of their taxes, the fire service should be evaluated for the value that it provides to the community. The cost of fire protection and the services provided varies significantly from fire district to fire district. The variation in staffing models ranges from completely volunteer to fully paid, with many variations in between. The services provided also vary considerably, including types of calls taken, the resources sent to respond to a call, the training level of firefighters and the time required for help to arrive.
If voters are to make informed decisions about elections and budgets, fire districts and municipalities responsible for providing fire service need to share adequate information about their performance. New York school districts have long been obligated to provide information to their residents regarding school performance.  Fire department performance measures (such as response time, types of call and fire spread), resources available (including personnel and apparatus), financial information (total budget, tax levy, and tax rate), population, and geographic area served should be developed and actively provided to taxpayers.
The fire service is full of dedicated paid and volunteer firefighters who should be lauded for their commitment to help their communities. However, in an era when all government services are being questioned, communities should also have the information necessary to make informed decisions about fire services. Much of this information is already gathered by municipalities. Preparing an annual report should not create an undue burden on any fire district or municipality. Fire departments would also benefit from evaluating their operations for improvement opportunities and to justify the valuable work that they perform in the community.
---
[i] Fire in the United States 1995-2004 (United States Fire Administration, 2007)
[ii] 2010 Residential Building Fire Trends (United States Fire Administration, 2011)
[iii] U.S. Fire Dept. Profile Through 2010 (National Fire Protection Association, 2011)
[iv] U.S. Fire Dept. Profile Through 2010 (National Fire Protection Association, 2011)
[v] NYS Town Law governs the creation and operation of fire districts and fire protection districts
[vi] NYS Fire Resources List (NYS Office of Fire Prevention and Control)
[vii] Fire Protection in NY (NY Commission on Local Gov't Efficency & Competitiveness, 2008)
[viii] Fire Protection in NY (NY Commission on Local Gov't Efficency & Competitiveness, 2008)