Last Christmas my father-in-law asked for investment advice. Folks he'd been reading were recommending gold. "Gold?" I responded. "No, I'd definitely stick with the stock market. Gold is up 30% since the start of 2010—hard to believe it's going to keep rising. Corporations are profitable. And they've got cash. Besides, Congress just passed that payroll tax cut. I'm not placing any bets on 2012 or 2013, but 2011 should be a decent year."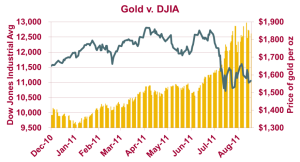 Good thing I'm spending THIS Christmas with MY family. If you've been hiding under a rock, the stock market hasn't had a good couple of months (although prices were stable or rising until May)—As I write this, the Dow Jones Industrial Average is down 4% since Christmas. And gold? Up 34%.
Growth in employment—already anemic—ground to a halt in August. GDP growth for the second quarter was first estimated at 1.3%, which was mildly depressing this long into a "recovery." Then it was revised down to 1.0%. Although few indicators have slipped into reverse, none have shifted out of first gear and many, like employment, are slowing, not accelerating.