Elections bring change – an opportunity to "reset" the policy agenda. Any newly elected governing body brings with it new policy priorities – some collective priorities shared by multiple members, and some unique ones espoused by individual officials.
The key challenge of any new governing body is effectively managing those priorities. Doing it well positions a new government to deliver results; failing to do so invites distraction to the governing process, treating all issues equally and encouraging less-than-strategic governance.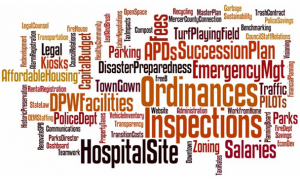 The challenge was magnified in Princeton, New Jersey this year. Its transition to a new governing council in January coincided with the launch of a newly consolidated municipality, the state's most significant in more than sixty years. Thus in Princeton, the new ideas and priorities that typically accompany new governing bodies existed alongside consolidation-related issues and transition matters that, in some cases, required more urgent attention.
Recognizing the importance of strategically prioritizing its policy objectives, Princeton turned to CGR to facilitate a comprehensive goal-setting process. CGR's approach was designed to, first, give precedence to time sensitive transition-related items, and second, provide a mechanism for acknowledging the Council's broader policy objectives for the coming year and establish a shared understanding of when they would be addressed.
CGR's approach involved three critical steps.
First, development of a comprehensive inventory of policy items. CGR administered a survey to members of the new Council, administrative personnel and department heads to identify issues and their relative importance to year one of the new government. Members of the public were invited to inform the inventory as well.
Second, aggregation and synthesis of issues within major categories. CGR assigned each submitted issue to one of 26 categories – from police and fire to personnel and labor; from historic preservation and parks to tax rates and sustainability.
Third, assignment of priorities. CGR applied a framework that assigned issues to one of four "priority levels" based on whether they needed to be addressed immediately, later in the year, or beyond.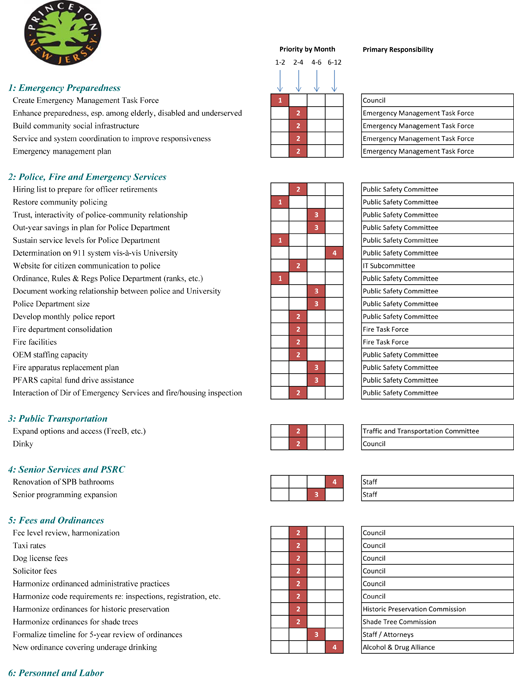 These elements served as the basis for a CGR-facilitated public meeting of the new Council in January 2013, at which every one of more than 200 policy items was acknowledged, its prioritization confirmed, and its "ownership" assigned.
(You can check out the master list of issues, priorities and assignment here: Princeton Issue Prioritization)
Where does Princeton's new government stand nearly three months in? This week The Times of Trenton reported that the new government was making strong headway navigating their "mountain" of issues. Nearly all of the "priority 1" items are in process, and more than half of the "priority 2" items are underway.
Leveraging CGR's framework and a robust public engagement strategy, Princeton's new government has hit the ground running. As other communities continue to monitor its successful consolidation experience, Princeton's model approach to policy goal setting offers an equally important teachable moment.