This piece first appeared in Mid-Hudson Valley Community Profiles Viewpoints section.
New York State's local governments were shielded from the fallout of the Great Recession but did not escape unscathed: Though federal stimulus funds postponed the pain, county government spending across the state and in the Mid-Hudson Valley has now been flat or declining for at least two years. Yet governments are under continuing pressure to find efficiencies.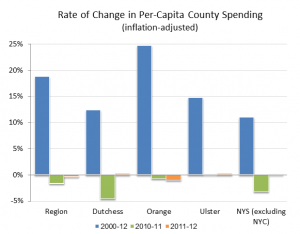 From 2010 to 2011, spending by county governments (inflation-adjusted) declined 5% in Dutchess, 3% in Ulster and 1% in Orange, for a drop of 2% across the 3-county region (see the government spending indicator here). The decline across the state (excluding New York City) was similar at 3%. From 2011 to 2012, spending held steady, flat in all those geographies save Orange, where there was a 1% decrease. These trends reflect the stimulus funds provided to state and local governments after the Great Recession began in 2008 – that influx of money didn't protect governments from the economic fallout, but it did postpone the pain.
But if we look further back, we see significant growth in county government spending since 2000, even after adjusting for inflation. From 2000 to 2012, spending grew 25% in Orange, 15% in Ulster and 12% in Dutchess, compared to an 11% increase in the state. That's despite the recent lean years. A number of factors increased costs, including salary and wage benefit increases for workers, energy costs, and higher expenses to meet state mandates.
The state adopted a cap on local property taxes in 2011 that likely played a role in restraining spending. It limits property tax increases to 2 percent or the rate of inflation, whichever is less, with some exceptions, including for pension expenses. Governments can exceed the cap with the approval of 60 percent of voters in school board budgets or a two-thirds vote of the local legislative body for non-school boards.
Yet, with property taxes still far higher across New York State than most places, Gov. Andrew Cuomo continues to push local governments to restrain spending. As part of his proposal for a 2014-15 state budget, which is supposed to be in place by April 1, Cuomo put forth a plan billed as an effective "tax freeze" for homeowners. The plan would:
Have the state absorb the impact of property tax increases as long as a local government kept its annual tax increase within the state's tax cap. The state would send homeowners an income tax rebate check for the amount of increase in their property tax bill.
Same deal in Year 2, but governments have to stay within the cap and come up with a plan to achieve structural savings that would reduce the tax levy in each of the next three years.
All told, the plan would cost the state, which has fiscal worries of its own and is also dependent on taxpayer funding, an estimated $1.4 billion over the next two fiscal years.
However, state lawmakers are balking at the plan, saying it doesn't help homeowners enough. The Assembly has instead proposed an expanded "circuit breaker" that aids homeowners with lower incomes. Homeowners earning less than $200,000 a year would be eligible for property tax relief, which would cost $1.1 billion.
With a few years of tight budgets behind them, many in local government say it's becoming more and more difficult to find savings without major structural changes that go beyond their decision-making power. Provisions of state law make it very difficult to reduce the wages and benefits of government workers, which are some key drivers of spending increases. State lawmakers do not seem inclined to change those provisions and anger the state's powerful public-sector unions.
So local governments are having to get very creative. One example is occurring in Dutchess County, where leaders are looking at consolidating two county departments, Health and Mental Health, as a way to not only save money but also improve service.
Time will tell whether governments will be able to continue to find efficiencies without drastically reducing service or without changes from state government giving them more ability to rein in spending on wages and benefits.