Premature childbirth increases the risk of death or a lifetime of disability and nearly always drives up cost. Early care for expectant mothers can help increase the chances of a healthy, full-term pregnancy. Now that the Supreme Court had upheld national health reform and its mandate to carry health insurance, we might hope to see more expectant mothers receiving care early in their pregnancies. Studies suggest that access to health insurance isn't the only factor, however.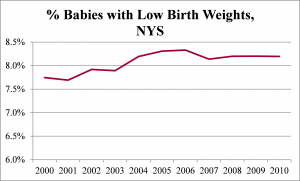 The nation had set a goal for 2010: 90% of pregnant women getting care in the first trimester of pregnancy. In New York and in the Rochester area, we're not close: in 2010, 79% of mothers in our region started prenatal care that early, higher than the state rate of 73% but largely unchanged over the past decade.[1] Generally speaking, rates of early access to prenatal care haven't changed much over the past decade, and neither have rates of problems that prenatal care helps prevent, such as low birth weight. Even more troubling, low-income and minority women tend to be less likely to start care early, another stubborn pattern.
Over the past decade, New York has expanded health insurance by making more people eligible for Medicaid, but that's only filled in a gap left by employment-based insurance.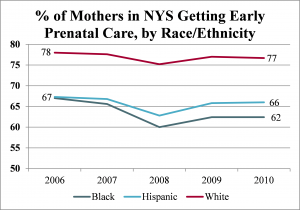 The share of residents receiving insurance through work dropped from 63% in 2000 to 57% in 2010. The share covered by Medicaid increased by the same margin, from 14% to 20% (not necessarily the same people, of course) – leaving our overall share of residents without insurance stable at about 15%[2].
We can hope that expanded health insurance will lead to more women getting early care, and some research supports this thesis. A study of insurance expansion in the 1990s in California found rates of early prenatal care increased from 73% to 84%.[3] Yet other studies have pointed to different factors, including women's education levels, their attitudes toward their pregnancies, lack of regular health care before their pregnancies, and transportation problems.[4]
Increasing rates of early care may require multiple approaches at both the national/state and local levels, with communities wrestling with how to reach women who for many different reasons are not inclined to seek early care for themselves.
This article first appeared on the ACT Rochester website, which houses a wealth of data and analysis about the health status of Rochester-area residents and other topics.
---
[1] New York State Department of Health, Vital Statistics.http://www.health.ny.gov/statistics/vital_statistics/

[2] U.S. Census Bureau, http://www.census.gov/hhes/www/hlthins/data/historical/HIB_tables.html

[3] http://www.cdph.ca.gov/data/surveys/Documents/MO-MIHA-PromotingAccessToPrenatalCare.pdf