Q: How do you eat an elephant? A: One bite at a time . . .
Let's apply this perspective to apply to the problem of poverty. The persistent, concentrated poverty we confront here in Monroe County is an elephant of a problem—let me suggest a few "bites" we might be able to chew.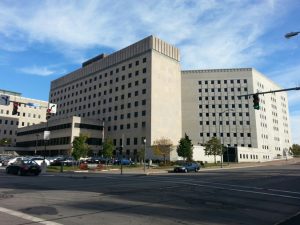 Jail phone service: How much do you pay per minute for phone service? Not sure? For most of us, "per minute" charges are meaningless—all the calls we wish to make are covered under a single monthly charge. And they're cheap. Under my plan, minutes cost $.02 each.
If you're an inmate at the Monroe County Jail, the cost of keeping in touch with the outside world is much more expensive. I've a friend at the jail now. He deserves to be there, don't get me wrong. But the cost of making a simple phone call is making his life–and that of his family—more difficult than it already is.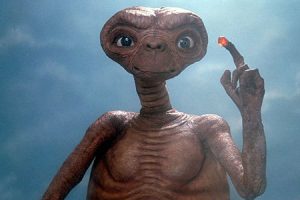 The first minute costs $1.85 with each additional minute charged at $.10. Expensive, you say, but not terrible. Calls are limited to only 15 minutes, however. Then you have to re-dial, incurring that $1.85 "first minute" charge once again.
We're not done. You also have to pay a $4.75 "processing charge" to set up payment for the call. You can avoid paying the processing charge for every call IF you set up an account—for a processing charge of $4.75. Every time you add money to the account, you have to pay that $4.75 processing charge once again.
Just to stay in touch with family while his case proceeds, my friend and his family are spending $125-150 per month in phone charges alone. NOTE: I tried to confirm the specific charges as my contact was not certain on all the details. The Monroe County Sheriff's Office required that I file a "Freedom of Information" (FOI) request, telling me "Please be advised that pursuant to Public Officers Law §89(3) an agency is not obligated to answer questions." Challenging questions like "what does it cost an inmate to make a phone call." I also asked for a copy of the contract between Monroe County and the vendor (as someone is making good money off Monroe County Jail inmates)—FOI'd again! I'll report back when I get an answer.
See a report on this problem at the nation level from the Prison Policy Initiative.
Rent to own: Want a big screen TV but you have lousy credit? No problem—rent-to-own stores like Rent-A-Center and Aaron's are here to help. Take a 60" Samsung Smart TV home today and own it outright in only 24 months! Aaron's will charge you a low, low monthly price of $119.99.

Apartment too hot this summer? Rent-A-Center will send you out with a 10,000 BTU Frigidaire window air conditioner for only $27.99 per week. It's really yours in only 28 weeks! Or buy a Simmons BeautySleep Queen Mattress Set from Aaron's for only 24 easy payments of $69.99.
Is this what happens when children leave our schools without a rudimentary understanding of arithmetic? Let's do the math on these purchases. In every case, the retailer posts an "everyday low price" at which you can buy the product instantly. The difference between the total paid over time and the "everyday low price" gives us our first clue to the fraud—this is effectively an interest rate. In these examples, the rate ranges from a "modest" 26% to a truly heroic 214%.

Let's look a bit more closely at that "everyday low price." By comparing that (inflated!!) price to the cost of purchasing the identical product someplace else, we can begin to estimate the retailer's rate of profit. The range here is from 192% to 424%. Not a bad markup.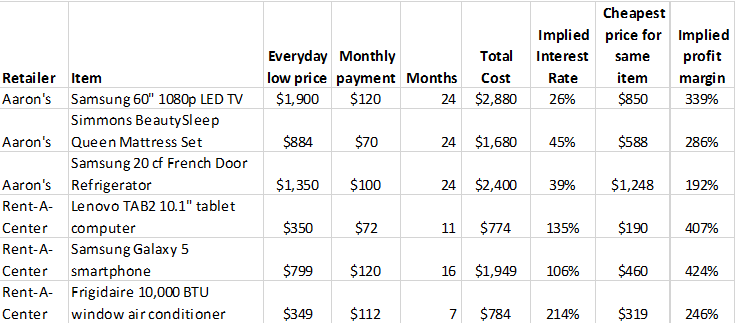 If there's a defense for this kind of retail piracy (the clerks should be obliged to wear patches), they are selling to a high risk consumer. If you invite consumers with bad credit, you'll probably get some! Their "repo" staffers stay busy, I expect.
I've two solutions. The best solution would be to use an extended discussion of rent-to-own as a module in 7th or 8th grade math. Too big a bite of the elephant? Shouldn't be. Let's make middle school math relevant.
There IS a regulatory option, howeverm NYS has a usury law on the books—lenders can't charge an annual interest rate higher than 25%. That law should be applied to rent-to-own schemes, too. If they wished to retain their profit margins, these retailers would be forced to increase the "everyday low price" substantially, giving consumers a more accurate picture of the true price.
These are only two examples in which vulnerable people are being taken advantage of by profiteers. Check cashing services and payday lending are two more that I'll address in a future column.  Let's actively seek practical reforms that will reduce the burden on individuals in poverty. Let's eat that elephant.